Donald Trump remains defiant after healthcare collapse
He insisted Obamacare will 'explode' despite Republican bill being abandoned.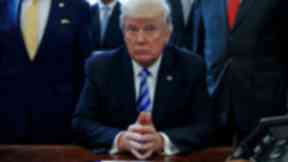 Donald Trump remains defiant in his bid to overturn Obamacare despite a humiliating set back.
Tweeting the day after abandoning the vote to repeal and replace the Affordable Care Act with the American Health Care Act, he said Obamacare would "explode".
The president wrote: "ObamaCare will explode and we will all get together and piece together a great healthcare plan for THE PEOPLE. Do not worry!".
His tweet comes the day after the bill was pulled at the last minute, reportedly after President Trump asked for the vote to be abandoned when House Speaker Paul Ryan informed him it was unlikely to pass the House.
The move is seen as an embarrassing defeat forTrump whose presidential campaign was built around repealing his predecessor's healthcare plan.
He had also worked hard to win over members of the Republican party who were spectacle about the new "TrumpCare" legislation.