Man arrested in connection with Dortmund bus blast
German prosecutors confirmed the arrest of the 28-year-old German-Russian citizen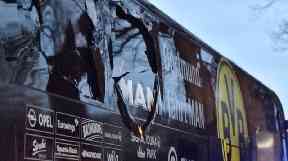 A 28-year-old man has been arrested in connection with last week's Dortmund bus attack.
German prosecutors confirmed the arrest of the German-Russian citizen in relation to the bombing of the Borussia Dortmund football team bus on April 11.
Officials said the suspect, identified as Sergej W, was arrested on Friday in the Tuebingen area.
A Dortmund player and a policeman were injured when the blasts went off as the bus headed to the stadium for a match against AS Monaco.
According to officials three explosive devices were used in the attack, all equipped with metal pins - one of which buried its way into a headrest on the bus.