Donald Trump: Firing 'nut job' Comey eased 'pressure'
Trump's first foreign trip as president derailed by more damaging stories at home.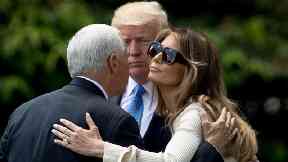 Donald Trump's first foreign trip has become mired in more damaging domestic accusations, with claims he told Russian officials the dismissal of "real nut job" FBI director James Comey had eased "great pressure" on him.
The US president flew out to Saudi Arabia as a separate report claimed one of his White House colleagues is being targeted by the FBI in their investigation into alleged links between Trump's campaign team and the Kremlin.
The Washington Post said the unnamed Trump adviser is a "significant person of interest" in the probe that is now led by former FBI director Robert Mueller as a special counsel after Mr Comey's sacking.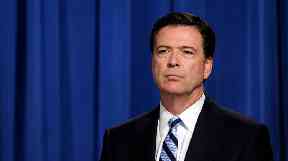 A separate report in the New York Times alleged Mr Trump had been candid with Russian officials in the Oval Office over his axeing of Mr Comey.
The claims in the newspaper, which cited notes from a meeting, were not disputed by the White House, which attacked Mr Comey for "grandstanding and politicising the investigation into Russia's actions" in response to the reports.
White House spokesperson Sean Spicer said: "The President has always emphasised the importance of making deals with Russia as it relates to Syria, Ukraine, defeating Isis and other key issues for the benefit and safety of the American people.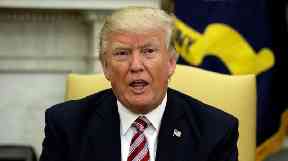 "Once again, the real story is that our national security has been undermined by the leaking of private and highly classified conversations."
Regarding the emergence of a White House official as a person of interest in the FBI probe, Mr Spicer said: "As the President has stated before - a thorough investigation will confirm that there was no collusion between the campaign and any foreign entity."
Mr Trump's arrival in Saudi Arabia came as Yemen's armed Houthi movement said it had fired a ballistic missile towards the Saudi capital Riyadh.