Trump Jr 'met Russian lawyer for Clinton information'
The US president's eldest son allegedly held talks with Natalia Veselnitskaya.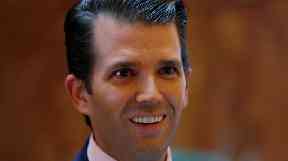 Donald Trump Jr has reportedly admitted meeting a Kremlin-linked lawyer during his father's Presidential election campaign - allegedly in the hopes of securing information about fellow candidate Hillary Clinton.
It comes after claims in the Washington Post over the weekend that the president's eldest son had met lawyer Natalia Veselnitskaya to gain damaging information about his father's opponent.
According to NBC News a statement released by Mr Trump Jr on Sunday said he was "asked to have a meeting" with Ms Veselnitskaya after being told she "might have information helpful to the campaign" but he was unaware of her name or who she was at the time.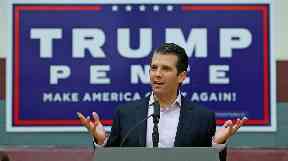 Mr Trump Jr. went on to state that "no meaningful information" on Mrs Clinton was shared at the June 2016 meeting.
He said. "Her statements were vague, ambiguous and made no sense."
The acknowledgement of the meeting comes as the FBI and Congress continue to look at whether Trump campaign officials had links with Russia during the campaign amid allegations that the Kremlin interfered in last year's presidential election.