Nine dead as flash flood hits swimmers at Arizona forest
Flash flooding hit an outdoor swimming area in the US state of Arizona.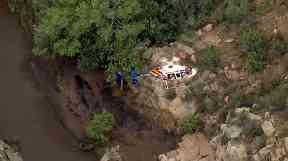 Nine people have been killed, including at least one child, after a flash flood swept away a group of family and friends cooling off in a national forest in the US state of Arizona.
Officials said the group had met up for a day trip along the popular Cold Springs swimming hole near Payson in central Arizona and were playing in the water when muddy flood waters came down the canyon.
The group had set out chairs to lounge on a warm summer day when miles upstream an intense thunderstorm dumped heavy rainfall on the mountain.
Search and rescue crews recovered the bodies of five children and four adults, some as far as two miles down the river.
A 13-year-old boy is still missing.
The victims ranged in age from a 60-year-old woman to a two-year-old girl.
They have not been named by authorities.
Four others were rescued on Saturday and taken to hospital for treatment for hypothermia.
The National Weather Service, which had issued a flash flood warning, estimated up to 1.5 inches of rain fell over the area in an hour.
The thunderstorm hit about eight miles upstream along Ellison Creek, which quickly flooded the narrow canyon where the swimmers were.