Virginia declares state of emergency over far-right rally
Governor announced state of emergency ahead of major white nationalists march in Charlottesville.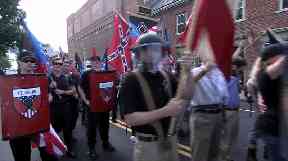 Officials have declared a state of emergency in Charlottesville, Virginia, as white nationalists clashed with counter-protesters ahead of a planned major alt-right rally.
Thousands of supporters of "Unite the Right" are expected to descend on the area this weekend, with some pictured holding Nazi flags and making fascist salutes.
There were clashes last night after hundreds of members of the group marched on the University of Virginia, where they were met by counter protests.
Two people are said to have been seriously injured.
Anti-fascist protesters at the university also reported that anti-fascist protesters were surrounded and pepper-sprayed by a large crowd of torch-wielding hard right marchers.
Local authorities in Charlottesville declared a state of emergency in the area, meaning that it can request extra resources.
Police said that arrests were being made of people gathered in the city's Emancipation park, which has become a focus point for the far-right protesters.
Virginia's governor Terry McAuliffe has also announced a state of emergency over the situation to "restore public safety" and has put the Virginia National Guard on alert.
It is now clear that public safety cannot be safeguarded withoutadditional powers, and that mostly-out-of-state prot4esters have come toVirginia to endanger our citizens and property. > I am disgusted by the hatred, bigotry and violence that thereprotesters have brought to our state over the past 2 hours.

Terry McAuliffe
Virginia representative Don Beyer also condemned the group as "weak, ignorant and fearful" in a series of posts on Twitter.
Meanwhile the US first lady Melania Trump also took to social media to appeal for peace.
Far right protesters have focused on Charlottesville after the city's authorities decided to remove a statue of Confederate forces commander Robert E Lee.
Unite the Right reportedly called the march to "affirm the right of Southerners and white people to organize for their interests".