Trump: North Korea military action 'not first choice'
Despite previously charged rhetoric, US president said action was not the first choice.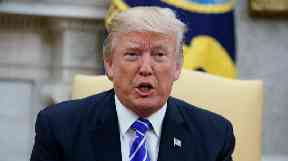 Donald Trump has said military action against North Korea would not be his "first choice".
Following a phone call with his Chinese counterpart Xi Jinping, the US president did not rule out military action but indicated his administration would first find other avenues to put pressure on Pyongyang.
"Certainly that's not our first choice, but we will see what happens," Trump said as he boarded Marine One at the White House.
Trump had been speaking to President Xi about the best approach to Kim Jong-Un's threatening nuclear and ballistic missile programmes.
Previously, Trump has accused China of not putting enough economic pressure on North Korea. But the two presidents appeared to be in broad agreement on Wednesday's phone call, according to Trump.
"I believe that President Xi agrees with me 100 percent. He doesn't want to see what's happening there, either. We had a very, very frank and very strong phone call," Trump told reporters as he left the White House on a trip to North Dakota.
The change of tone followed several tweets by the US president over the summer that warned of "fire and fury" if North Korea continued tests.
Over the last few years, the United Nations have issued increasingly tougher sanctions of North Korea, and are now considering taking these steps further.
Those could include oil sanctions or restricting North Korea's ability to collect remittances from workers abroad.