Rohingya Muslims flood into Bangladesh from Myanmar
More than 250,000 people have crossed the border in the last two weeks, UN says.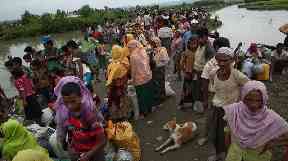 More than a quarter of a million Rohingya Muslims have fled their homes in Myanmar in the past two weeks and crossed into Bangladesh, the UN refugee agency (UNHCR) has said.
Following an upsurge in violence in Myanmar's Rakhine State, where the majority of Rohingya Muslims live, refugees have been flooding into Bangladesh, with 270,000 believed to have made the journey since August 25.
The UN has described the number of refugees as "alarming", adding that the "existing camps are full to the capacity", placing "a lot of pressure on relief agencies to accommodate the rising numbers", and that many Rohingya were now squatting in makeshift shelters.
The violence began when Rohingya insurgents attacked police posts, prompting the military to respond with "clearance operations" to root out any fighters hiding in villages in Rakhine State, with the military reporting 400people - most of who they described as insurgents - had died in clashes.
Yet refugees instead described large-scale violence being carried out by the country's military and Buddhist mobs - setting fire to their homes, spraying bullets indiscriminately, stabbing civilians and ordering them to abandon their homes or be killed.
Some even reported people were being burned alive.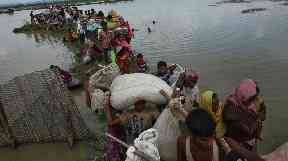 Burning Rohingya homes can make it less likely that they will return.
Myanmar refuses to recognise Rohingya Muslims as Burmese, instead arguing that they migrated illegally from Bangladesh, though many Rohingya families have lived in the country for generations.
In 2012, tens of thousands of Rohingya were driven from their homes in another wave of violence, many of who are now confined to camps, while their land is now either vacant or occupied by Buddhist squatters.
Copies of the Qur'an with pages torn out and thrown outside were also reported to have been seen.
However, Myanmar's (formerly known as Burma) government claims the persecuted minority are destroying their own homes and setting fire to them.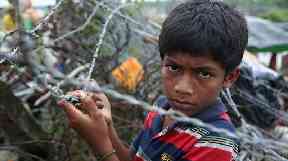 There has been criticism of the country's pro-democracy leader Aung San Suu Kyi - known as "The Lady" who effectively runs the country after her party won a landslide in the first free vote in a generation two years ago.
However, despite winning the Nobel Peace Prize for years of peaceful resistance against military dictatorship she has failed to condemn the violence against Muslims in Myanmar, instead branding it a misinformation campaign.
According to her office, she said such misinformation helps promote the interests of "terrorists", a reference to the Rohingya insurgents who attacked security posts on August 25.
On Thursday, Ms Suu Kyi said her government was working to improve security and livelihoods for Rohingya, but that it is "a little unreasonable to expect us to resolve everything in the 18 months" since her administration took office.
With thousands of Rohingya fleeing across the border every day, Bangladesh has pledged to build at least one more camp for them, while the International Organisation for Migration has pleaded for £13 million in foreign aid to help feed and shelter the tens of thousands now packed into makeshift settlements or stranded in a no man's land between the two countries' borders.
So far, international aid agencies have released more than £6 million in emergency aid to help the refugees.
It is not known how many Rohingya remain in Rakhine State, previously there had been around one million.