US set to vote on toughest-ever North Korea sanctions
Monday's vote on UN resolution could lead to a showdown with China and Russia.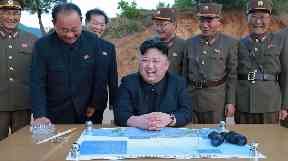 The US government will vote on Monday on an UN resolution that would impose the toughest-ever sanctions on North Korea, including banning oil imports.
The outcome could lead to a showdown with the country's biggest trading partner China and its neighbour Russia.
Donald Trump's administration dropped the one-on-one US negotiations with China to draw up a totally American draft.
Several diplomats say the US demand for a quick council vote is aimed at putting maximum pressure on China. Mr Trump has accused China of not putting enough economic pressure on North Korea.
Following a phone call with Chinese president Xi Jinping on Wednesday, Mr Trump said military action was "certainly not our first choice".
Britain's UN Ambassador Matthew Rycroft, who backs "robust" new sanctions, said the US proposals to ban all oil imports and textile exports and prohibit North Koreans from working overseas - which helps fund and fuel the country's nuclear and missile programs - are "a proportionate response" to its "illegal and reckless behavior".
Mr Rycroft stressed that "maximum possible pressure" must be exerted on North Korea to change course and give diplomacy a chance to end the crisis.
The proposed US sanctions would also freeze all foreign financial assets of the government and its leader, Kim Jong-un.
The US draft also identified nine ships that have carried out activities prohibited by previous UN resolutions and would authorise any UN member state to stop these vessels on the high seas without their consent and use "all necessary measures" - which in UN language includes force - to carry out an inspection and direct the vessel to a port.
Russia has said sanctions aren't working and President Vladimir Putin expressed concern that a total oil cutoff could hurt the North Korean people.
Beijing and Moscow have called for a resolution that focuses on a political solution and have proposed a freeze-for-freeze that would halt North Korean nuclear and missile tests in exchange for the US and South Korea halting their joint military exercises - an initiative rejected by the Trump administration.
As for the North Koreans, their official news agency said the country's "nuclear weaponisation ... has reached its final phase".
The KCNA report sharply criticised US Ambassador Nikki Haley for playing "the flagship role" in the Trump administration's "hideous sanctions and pressure racket against the DPRK".
The agency called Haley "a political prostitute" and dismissed as "rubbish" her comments at an emergency Security Council meeting Monday following the latest nuclear test that the DPRK is "begging for a war".