Hurricane Irma hits Florida Keys with winds up to 130mph
Millions of people have been told to leave as the Category 4 storm moves across from the Caribbean.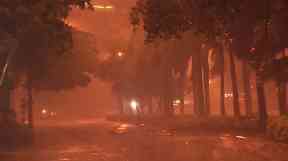 Hurricane Irma has made landfall in Florida Keys, bringing winds of up to 130mph.
Millions of people have been told to leave as the storm - now upgraded to Category 4 - blasted through Cuba towards to the US, shifting its path to target the west of the state.
Police in Florida have reported a number of road traffic deaths in the last few hours. It is not yet clear whether they were caused by the adverse weather.
Florida utility officials say more than 1 million customers have lost power as the hurricane hit the state.
Irma has already devastated parts of the Caribbean, leaving at least 22 people dead, and causing destruction in the UK territories of Turks and Caicos and the British Virgin Islands.
British police officers will be deployed along with almost 500 troops as part of the country's efforts to step up support to the Caribbean islands.
Irma battered Cuba on Saturday with wind speeds reaching up to 160 mph.
Donald Trump called on "everyone in the storm path to heed all instructions, get out of its way".
Officials have warned Irma will bring "life-threatening wind, storm surge and rainfall" when it arrives at the Florida Keys and Tampa on Sunday.
"You need to leave now, do not wait," said Florida Governor Rick Scott. "Evacuate. Not tonight, not in an hour, you need to go right now."
Mr Scott said there could be a "six to 12 foot" storm surge. "This will cover your house," he said.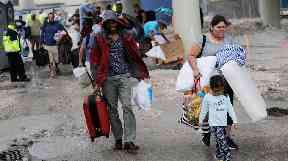 A total of 6.5 million people - a third of the state's population - have been urged to leave voluntarily, while mandatory evacuations have been declared in some areas.
Thousands more face being caught up in the hurricane as Irma shifted westward, meaning that its centre is now expected to move over the west side of the state's peninsula, rather than the east as originally forecast.
Governor Scott warned those in the low-lying Keys to get out within hours or be prepared to weather the storm on their own as the authorities will not risk sending emergency services into the hurricane's centre.
"If you are planning to leave and do not leave tonight, you will have to ride out this extremely dangerous storm at your own risk," he said.