Storm surge fears as Hurricane Irma batters Florida coast
With winds up to 142 mph and warnings of storm surges, hurricane is continuing its destructive path.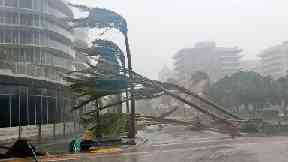 Hurricane Irma has hit the mainland of Florida, passing just south of the US city of Naples with winds of up to 142mph and warnings of storm surges.
The storm, which President Donald Trump described as a "monster", made landfall on the Florida Keys.
It has since been downgraded to a category two storm, but has continued on its destructive path.
A curfew is in place in the built-up Tampa Bay area, home to about three million people, where Irma is expected to strike before moving to northern Florida on Monday morning.
Tampa Mayor Bob Buckhorn warned the storm was about to punch his city "in the face".
Parts of Miami's financial district are underwater and about 2.5 million homes are without power.
In Miami-Dade County in the southeastern part of the state, police encouraged residents to stay indoors.
Three deaths have been reported in traffic accidents, reportedly connected to Irma.
A sheriff's deputy died in a head-on collision in Hardee County. The other driver, a corrections officer, was also killed.
A third person died near Key West when his truck crashed into a tree, according to the Monroe County sheriff's office.
Officials have warned Irma is bringing with it "life-threatening wind, storm surge and rainfall".
Nearly 6.3 million people in Florida were ordered to evacuate before the storm, although not everyone has heeded those calls.
Irma has already devastated parts of the Caribbean, leaving at least 22 people dead, and causing destruction in the UK territories of Turks and Caicos and the British Virgin Islands.
The storm swamped thousands of homes and businesses in Cuba, where the authorities warned that floodwaters could linger for more than a day and waves as high as six metres are continuing to pound the capital Havana.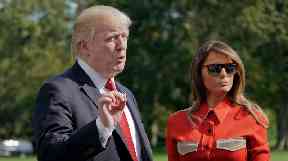 In the US, President Trump received a "comprehensive update" on developments on Sunday, the White House said, and Vice President Mike Pence urged those in the storm's path to "heed the warnings" of local officials.
Mr Trump said the response to the crisis has "been going really well."
"The bad news is, this is a monster," he told journalists. "I hope there aren't too many people in the path. That's a bad path to be in."
Florida Governor Rick Scott said he had spoken to Mr Trump on Sunday and the president "said he was saying prayers for us," Scott told CBS' Face the Nation.