At least 68 dead in Vietnam floods and landslides
Extensive tropical rains have left 32 people injured and damaged infrastructure.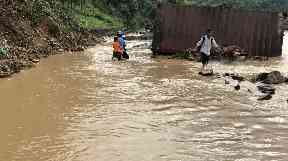 At least 68 people have died in floods and landslides in Vietnam with a further 34 missing.
Extensive tropical rains had left a further 32 people injured, damaged infrastructure and killed more than 230,000 livestock in central and northern regions.
Disaster officials in the hardest-hit province of Hoa Binh in the north, where 20 people have died, said some 300 soldiers, police and militia were still searching for eight people missing from a landslide.
Tropical Storm Khanun is weakening as it moves toward the Tonkin Gulf and is expected to bring rains to northern and central Vietnam.