Trump tells widow soldier 'knew what he signed up for'
US president accused of making insensitive comments to a grieving widow.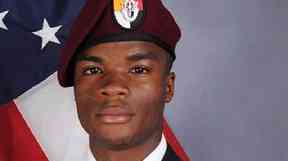 Donald Trump has been accused of making insensitive comments to a grieving widow days after her soldier husband was killed.
The president reportedly phoned Sergeant La David Johnson's wife and said he "must have known what he'd signed up for".
Sgt Johnson, 25, was one of four US special service troops killed in Niger by Islamist militants earlier this month.
He and his wife have two children with a third on the way.
Myeshia Johnson had been en route to meet her husband's body when Mr Trump called.
Democrat Representative Frederica Wilson was with Mrs Johnson at the time, and later criticised the president after overhearing the call.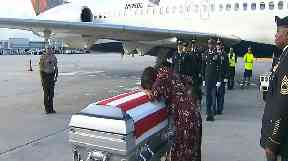 Rep Wilson told NBC that Mrs Johnson was left "astonished" after the exchange- which lasted a handful of minutes.
The White House said that Mr Trump had contacted the families of the four servicemen to express his condolences.
But Rep Wilson said that he told Mrs Johnson her husband "must've known what he signed up for".
"Everyone knows when you go to war you could possibly not come back alive but you don't remind a grieving widow of that. That's so insensitive," she said.
"I wanted to curse him out. I asked the family to give me the phone so that I could, but they wouldn't.
"It was almost like saying, 'You signed up to do this, and if you didn't want to die, shouldn't have signed up.'"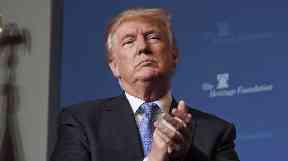 Rep Wilson also criticised Mr Trump on Twitter, saying that he did not possess the "character, empathy or grace" to be president - adding that Sgt Johnson was a "hero".
A White House spokeswoman said on Tuesday that Mr Trump had "offered condolences on behalf of a grateful nation and assured them their families' extraordinary sacrifice to the country will never be forgotten."
The president himself said he'd also written letters to the families.