Spain to trigger plan for full control of Catalonia
Prime Minister Mariano Rajoy revealed he would trigger the process on Saturday.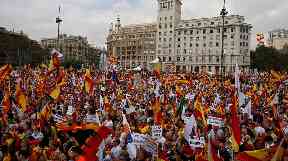 Spain will move to take full control of Catalonia after the semi-autonomous region refused to back down over its bid for independence.
Prime Minister Mariano Rajoy revealed he would hold a cabinet meeting on Saturday to trigger the process.
Catalonia has in turn threatened to declare all-out independence, in a letter to Madrid, if Spain refuses to come to the negotiating table.
It comes as a deadline issued by the Spanish government - which called on Catalonia to withdraw its bid for secession - passed on Thursday.
Catalan leader Carles Puigdemont said he had no intention of backtracking on this month's referendum, according to an official.
Madrid will now start the process of withdrawing Catalonia's semi-autonomous powers and exercising full control over the region.
The measure, which falls under Article 155 of Spain's 1978 Constitution, has not been used for four decades.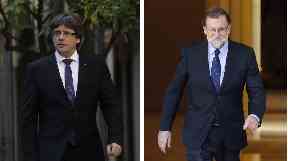 Spanish authorities had called on Mr Puigdemont to clarify whether Catalonia had declared independence in the wake of the referendum at the start of October.
Some 90% of voters in the disputed referendum called for Catalonia to become an "independent state".
But the process was marred by violence as Madrid tried preventing the vote taking place.
Mr Puigdemont made an ambiguous declaration of independence last week, which he then immediately suspended to allow time for talks with Spain.
He the called for two months of dialogue and requested that Spanish authorities halt "all repression" in Catalonia.
But Madrid responded that he hadn't been clear enough on the question whether the region had declared independence.