Spanish PM launches bid to dissolve Catalan government
Spanish prime minister Mariano Rajoy said he wants to call an early election.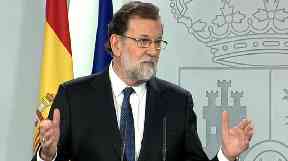 Spanish Prime Minister Mariano Rajoy says he wants the Senate to give him direct power to dissolve the regional Catalan government and to call an early election as soon as possible.
Mr Rajoy said after meeting with his Cabinet on Saturday that the central government needs to take the unprecedented step of assuming control of Catalonia to "restore order" in the face of a secession effort backed by the regional government.
He is proposing that the powers of Catalan officials be taken over by central government ministers.
Mr Rajoy's government is activating a previously untapped constitutional article to take control of Catalonia.
The move is aimed at blocking the independence movement that has gained pace since a disputed October 1 referendum on separating Catalonia from Spain.
Some 43% of Catalans voted in the referendum, with 90% backing independence. However, the majority of anti-independence voters reportedly boycotted the vote.
The disputed vote was also marred with widespread violence, with some 900 people injured as riot police armed with shields, batons and guns with rubber bullets clashed with peaceful protestors.