Trump to 'cover staff legal fees' from Russia probes
Staff have racked up hundreds of thousands of dollars in fees amid the investigations.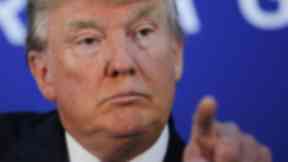 Donald Trump will spend at least $430,000 (£326,000) of his own money to cover legal fees incurred by campaign staff due to the ongoing probes into Russian meddling in the 2016 election, a White House official said on Saturday.
The US president's financial commitment was first reported by Axios, although the official provided no details on how the payments will be structured or who will have access to the funds.
Campaign staffers have racked up hundreds of thousands of dollars in legal fees as Special Counsel Robert Mueller and House and Senate committees investigate Moscow's attempt to influence the vote.
The White House expects costs to increase far beyond what Trump has reportedly offered as investigations move forward.
Trump has repeatedly called for Mueller's probe to end, accusing investigators of running a "witch hunt."
The move by Trump was immediately criticised on Saturday over potential conflicts of interest. Walter Shaub, a former director of the U.S. Office of Government Ethics, tweeted, "A potential witness or target of an investigation (and boss of investigators) paying for legal fees of other potential witnesses or targets?"
The official told Axios: "We're working on appropriate legal and ethical approval."
The Republican National Committee has covered some of the costs incuured so far, including fees for lawyers representing Trump's son, Donald Trump Jr, who met with a Russian lawyer in 2016 hoping to secure damaging information on Hillary Clinton.
Trump has grown increasingly frustrated with the Russia investigations, repeatedly claiming that Democrats are using interference as an excuse for their election defeat.
On Saturday Trump tweeted, "Crooked Hillary Clinton spent hundreds of millions of dollars more on Presidential Election than I did. Facebook was on her side, not mine!"