Diver swims 4.5 miles while being 'followed' by shark
The Brit has described how he thought he was going to die after becoming stranded.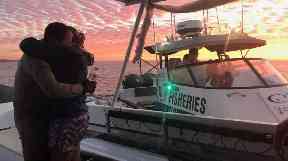 A British diver has described how he thought he was going to die after becoming stranded out at sea off the coast of Australia and swimming 4.5 miles to safety - while being "followed" by a "huge" tiger shark.
John Craig had been spear fishing with a friend off a boat in Shark Bay, but when he surfaced, he could not see the vessel.
After shouting for his friend, it became clear to the 34-year-old that the boat was not coming back.
Little did he know it was experiencing mechanical difficulties and had drifted away.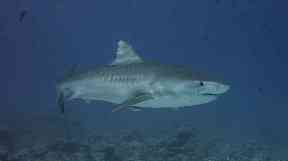 "My heart rate was sky high," Mr Craig told local media.
"I put my head in the water to check I was in the same place and suddenly saw a huge four metre tiger shark approaching within arm's reach," he said.
"It was easily the biggest tiger shark I've been in the water with and that's saying something having worked as a dive instructor for over 10 years.
"I quickly turned and saw another large sandbar whaler circling behind me and it was at that point I decided to give up on getting to the boat and save myself."
A sandbar whaler is a type of shark which is between 1.5 and 2.5 metres long (between four and eight feet long).
"I knew immediately that I had to try to calm down in order to survive," he continued.
"It (the tiger shark) was definitely trying to work out what I was and whether I could be 'on the menu', but each time it approached I used my spear gun to block its path.
"After about two minutes of this dance I thought 'I have to get out of here' and started swimming for shore."
"At no point did I touch the shark as I didn't want to upset it with a prod from the spear and make a bad situation worse," he added.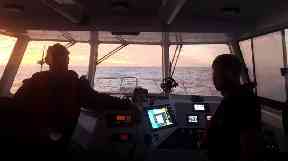 Mr Craig, who reportedly moved to Australia from Sunderland two years ago, said swimming the 4.5 miles back to shore was "pure endurance", and all the time he was being followed by the shark which was keeping pace with him.
"I have to admit that at this point ... I thought this was it, this is how I'm going to die," the diving instructor said.
Mr Craig said he watched as the shark would disappear into the gloom of the sea as he swam, and "then suddenly reappear behind me, just keeping pace with me behind my fins".
At one point the shark cruised beside him as if it was a whale shark, a harmless cousin of the tiger species.
"For about 500m the shark swam on the same path as me towards the shore and then in a moment banked and disappeared completely as if to say 'You're OK now, I'll leave you alone'," Mr Craig said.
He added that the 4.5 mile swim took him around three hours, but once he reached the shallows he could not get the attention of search and rescue crews in the area due to his camouflaged wetsuit.
Mr Craig's friend had raised the alarm, soon after not being able to find him.
Mr Craig was then forced to walk for half an hour before a search plane spotted him on a remote beach at 6.30pm on Friday, as sunset approached.
The exhausted swimmer told local media he was spurred on to reach safety by thinking about his wife: "I just thought about my wife and how worried she'd be. I just wanted to tell her I was alive," he said.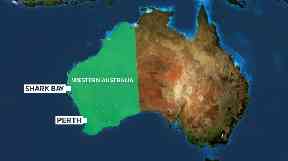 Mr Craig said he was "eternally grateful" to all the locals, police officers, Shark Bay marine rescue volunteers and staff from the Department of Fisheries who were all involved in the two-and-a-half-hour sea and air search for him, promising them he would be buying them "beers for years to come".
Shark Bay Volunteer Marine Rescue commander Greg Ridgley said Mr Craig's presence of mind to save himself in shark-infested waters was incredible.
"I just can't believe anybody could do that," he said.
Tiger sharks are responsible for the second-highest number of reported attacks on humans, according to the International Shark Attack File.