Donald Trump 'couldn't remember' fallen soldier's name
Sergeant La David Johnson's widow Myeshia says phone call made her 'cry even more'.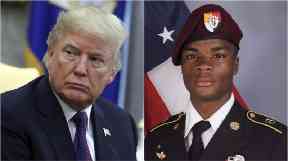 Donald Trump couldn't remember the name of a US soldier killed in Niger when he made a phone call to his family, the widow of the soldier has said.
The row over the US president's call following the death of Sergeant La David Johnson could be reigniting, after Myeshia Johnson confirmed to ABC's Good Morning America that Trump's words and tone made her "cry even more".
Sergeant Johnson was one of four American servicemen killed in an ambush in Niger in October.
There has been an ongoing controversy over the way Trump handled a call to Sergeant Johnson's family, after a Congresswoman who was in the car at the time accused the president of upsetting the family by saying "he knew what he signed up for".
And the soldier's widow Myeshia Johnson backed up that statement today, adding "he couldn't remember my husband's name".
The president said that 'he knew what he signed up for, but it hurts anyway.' It made me cry because I was very angry at the tone of his voice and how he said it. He couldn't remember my husband's name. The only way he remembered my husband's name was because he told me he had his report in front of him. And that's when he actually said 'La David'. I heard him actually stumbling on trying to remember my husband's name. That's what hurt me the most, because if my husband is out here fighting for our country, and he risks his life for our country, why can't you remember his name? That's what made me upset and cry even more. Because my husband was an awesome soldier.

Myeshia Johnson
"My husband had high hopes in a military career," she added.
Sergeant Johnson was buried at a service in Florida on Saturday.
Donald Trump has responded saying the call with Myeshia Johnson was "respectful" and that he didn't forget the soldier's name.