Xi Jinping: Rise of China's most powerful ruler in decades
The 64-year-old is one of seven children of revolutionary veteran Xi Zhongxun.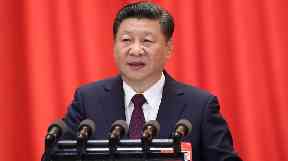 China's President has been made the country's most powerful ruler in decades, after the ruling Communist Party formally elevated Xi Jinping's status.
In doing so, the party has set the stage for the authoritarian leader to tighten his grip over the country while pursuing an increasingly muscular foreign policy and military expansion.
The move to insert Mr Xi's name and dogma into the party's constitution alongside the party's founders came at the close of a twice-a-decade congress, and now means that any act of opposing Mr Xi is tantamount to an attack on the party itself.
But who is Mr Xi and how has he become one of the most powerful people in the world?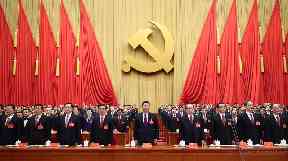 Who is Xi Jinping?
Born in Beijing on June 15, 1953, the 64-year-old is one of seven children of revolutionary veteran Xi Zhongxun, one of the Communist Party's founding fathers and a vice-premier, and his wife, Qi Xin, also a Communist Party member.
Due to his illustrious roots, Mr Xi is seen as a "princeling" - a child of elite senior officials who has risen up the ranks.
However, when Mr Xi was 10, his father was purged from the party and sent to work in a factory in Luoyang, Henan, some 500 miles away from Beijing.
Then in May 1966, the then 13-year-old's education was cut short during the Cultural Revolution - a decade-long period of political and social chaos caused by Mao Zedong's bid to use the Chinese masses to reassert his control over the Communist party and purge any remnants of capitalism and traditional elements from Chinese society.
During the Cultural Revolution, Mr Xi's father was jailed, and without the protection of Xi Zhongxun, Xi Jinping was sent to work in the countryside, but after a few months he ran away.
Mr Xi was subsequently arrested and sentenced to hard labour.
Rather than turn against the Communist Party and its ideals, Mr Xi embraced them and tried to join numerous times, though he was not allowed due to who his father was.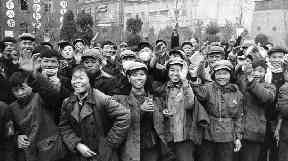 He was finally accepted into the party in 1974 and worked hard to rise through the ranks of the party, first becoming local party secretary in Hebei province, before moving on to more senior roles in other places including party chief of Shanghai, China's second city.
Meanwhile, between 1975 and 1979, Mr Xi studied chemical engineering at Beijing's prestigious Tsinghua University as a "worker-peasant-soldier student", meaning he spent one-fifth of his time studying Marxism-Leninism-Mao Zedong thought, doing farm work and "learning from the People's Liberation Army".
Between 1998 and 2002 he also studied Marxist philosophy and ideological education in a postgraduate programme, again at Tsinghua University and obtained a Doctor of Law degree.
While serving as Shanghai Party Chief, a position he took up in 2007, Mr Xi was noted for strictly observing party discipline, becoming evermore highly regarded by the country's top leadership.
In the same year, he was appointed to China's top decision making body, the nine-man Politburo Standing Committee.
Just months later, in March 2008 he was elected vice-president of the People's Republic of China, and then in November 2012 he was elected leader of the party, and thus the country, taking over from Hu Jintao.
However, shortly before he ascended to the party's leadership, Mr Xi disappeared from official media coverage for several weeks, cancelling a meeting with then US secretary of state Hillary Clinton and Singapore's Prime Minister.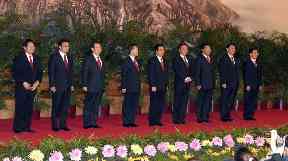 What has he achieved during his time in power?
Chairman Xi or Uncle Xi as he is also known has used his time as leader of the Communist Party to legitimise its power, introducing far-ranging measures to enforce party discipline and ensure internal unity.
He has also cracked down on corruption within the party, leading to the downfall of many prominent figures.
The Paramount Leader has also tightened controls on ideology, including censoring the internet, and has also strengthened legal institutions.
Mr Xi has also championed a more assertive foreign policy, as well as trying to made China a leading player in free trade and globalisation, as well as expanding the country's regional influence.
In 2016, Forbes named Mr Xi as the fourth most powerful person in the world, while The Economist labelled him "the world's most powerful man" in 2017.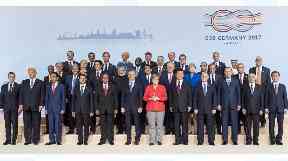 What is next for China under Mr Xi?
Mr Xi has said he wants China to become a "great modern socialist country" by mid-century, setting the target dates of 2021 - the 100th anniversary of the party's founding - and the People's Republic's centenary in 2049 - for the establishment of a prosperous, modern society.
While China has the world's second-largest economy and legions of newly wealthy urban residents, raising living standards for millions of people continues to be a challenge.
Mr Xi also remains committed to his signature foreign policy and infrastructure initiative known as "One Belt, One Road", which seeks to link China to Southeast Asia, Central Asia, Africa, Europe and beyond with a sprawling network of roads, railways, ports and other economic projects.
Analysts expect Mr Xi to remain in power until at least 2022, and to try and further China's power on the global stage.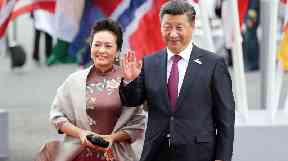 Personal life
Soon after his first stint at university, Mr Xi married Ke Lingling, the daughter of China's ambassador to Britain.
However, the pair were said to "fight almost every day" and they divorced within a few years.
In 1987, Uncle Xi married prominent Chinese folk singer Peng Liyuan, who at the time was much more famous than he was until his political elevation years later.
Unlike previous presidential couples where the first lady has traditionally kept a lower profile, the pair are heavily featured in state media as China's First Couple.
The couple frequently live apart due to their separate professional lives.
The pair have a 25-year-old daughter together, Xi Mingze, although little is known about her and she maintains a low profile.
Ms Xi studied under a pseudonym at Harvard between 2010 and 2014, and it is thought she only revealed her true identity to less than 10 people.
After her graduation in 2014, Ms Xi returned to China and now lives in Beijing.