Kenyan opposition leader tells supporters not to vote
Raila Odinga urged supporters to boycott a new election amid rising tensions.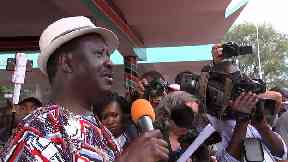 The leader of Kenya's main opposition party has urged his supporters to boycott a new election amid rising political tensions that it is feared could spill over into violence.
Raila Odinga urged his political coalition to become a "resistance movement" and told them not to participate in the election, at a rally in Nairobi's Uhuru Park.
President Uhuru Kenyatta was re-elected in August this year, but the Supreme Court shocked the country in September by nullifying the result.
It cited irregularities and illegalities and the electoral commission's unwillingness to let court-appointed technicians examine its computer system.
Odinga had challenged Kenyatta's victory, claiming hackers had infiltrated the computer servers and manipulated the vote.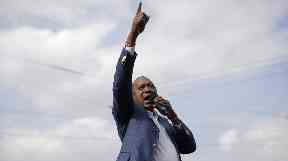 The new election looks set to go ahead, after the Supreme Court failed to muster enough judges to hear a last-minute petition to postpone the elections
One judge's driver was shot yesterday evening, raising fears about intimidation of the judiciary.
Supporters of President Uhuru Kenyatta celebrated the news that the elections will proceed.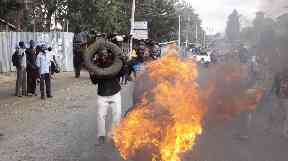 Hundreds of opposition supporters gathered in Uhuru Park to hear Odinga speak. Police had banned the rally, but stood back and allowed it to take place.
Across the country, in the opposition stronghold of Kisumu, western Kenya, Odinga supporters suggested they would disrupt Thursday's elections.