Kenyan opposition calls for boycott at repeat election
Security forces have been deployed across the country as Kenyans return to the polls.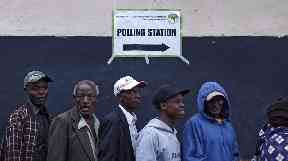 Kenyans are returning to the polls in the country's second presidential election since August, amid a boycott by the opposition and fears of violence.
Crowds at polling stations on Thursday were noticeably smaller than during the August 8 election, ITV News Africa Correspondent John Ray reported.
Raila Odinga, the leader of Kenya's main opposition party, has called on his supporters to stay away from the vote and Kenyan media said some of his supporters have blocked the operations of some polling stations.
Incumbent President Uhuru Kenyatta was declared the winner of elections in August, but the country's Supreme Court nullified the result, citing irregularities and illegalities with the election process.
It also criticised the electoral commission's unwillingness to let court-appointed technicians examine the computer voting system, which Mr Odinga and his supporters claimed had been hacked.
With Mr Odinga warning the new vote will also be illegitimate because of a lack of electoral reform, there are fears of possible violence.
Security forces have been deployed across the country and in a televised address on Wednesday Mr Kenyatta appealed for Kenyans to vote while respecting the rights of those who chose to stay away.
Human rights groups said police killed dozens of people during protests after the August vote.
Authorities confirmed a smaller number of deaths and said they had to take action against rioters.