Catalonian president refuses to call regional election
Carles Puigdemont says he will not bow to Madrid's demands for a fresh vote.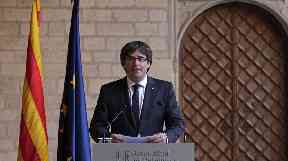 Catalonia's leader has ruled out calling a fresh regional election as demanded by Madrid as he refused to back down in a row with the central government over the region's contested vote for independence.
Carles Puigdemont made it clear that he will not bow to Spain's demands in the speech made this afternoon as he urged peaceful talks to find a way forward.
It comes after Spain's Prime Minister Mariano Rajoy said he planned to sack the region's leaders and call a fresh election in Catalonia in an effort to retake control of the region following the succession vote.
The Government does not recognise the vote to break away as a separate country, and has been moving to take direct control of the region amid turmoil over the region's future.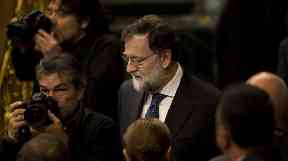 In his speech today, Mr Puigdemont said he would not call a vote as the region needed to further explore avenues of negotiation with the Government over the way forward.
He called for peace in front of a charged crowed who were chanting "independence".
The leader also firmly laid the blame to the blockage of talks with Madrid, saying the government had failed to give assurances that would have allowed both sides to agree on a new vote.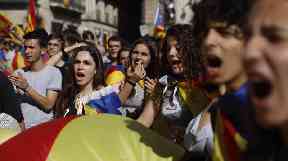 Mr Rajoy has said the central government needs to take the unprecedented step of assuming control of Catalonia to "restore order" in the face of a secession effort backed by the regional government.
However, officials been unable to explain what would happen to Mr Puidgemont and others if they refused to comply with Madrid's decision to replace them.
Mr Puigdemont hit back, saying Spain's plans are an "attack on democracy" which aim to "wipe out self-government" in the region, which currently holds a high degree of devolved power.