Australia deputy PM disqualified over dual citizenship
The High Court has disqualified Australia's deputy prime minister from Parliament.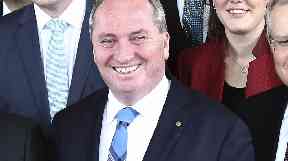 Australia's High Court has disqualified the country's deputy prime minister Barnaby Joyce from sitting in Parliament because he held dual citizenship.
In a ruling that could cost the government its slender majority in Parliament, the court said four other senators were also invalidly elected in July 2016.
It is prohibited in Australia's constitution for dual citizens to be elected.
The decision to disqualify Deputy Prime Minister Barnaby Joyce means a by-election will be held in December.
Prime Minister Malcolm Turnbull's conservative coalition has a single-seat majority in the 150-seat House of Representatives where parties form governments.
Disqualified senators are replaced by members of their own parties without an election so the balance of power is not altered.
Joyce will be able to stand for re-election, having renounced the New Zealand citizenship he unknowingly inherited from his father.