Spain plans takeover as Catalonia declares independence
Senate approves Prime Minister's plans for Madrid to have direct rule over the region.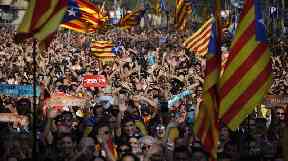 Spain's parliament have approved direct rule over Catalonia shortly after the region's lawmakers voted to declare independence.
The Spanish Senate approved proposals to trigger Article 155 of the constitution giving Madrid complete control over Barcelona.
Earlier, Catalonia lawmakers voted 70 to 135 in favour of independence, with 10 against and two blank ballots.
Prime minister Mariano Rajoy appealed for calm after the Catalonian vote, saying the rule of law will be restored in the region.
In a speech ahead of the vote on Friday Mr Rajoy said his majority government would immediately sack Catalonia regional president Carles Puigdemont and his ministers if it was passed.
Thousands of people who had gathered outside the Catalonia parliament building in Barcelona, cheered as the motion for independence was passed.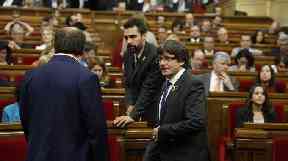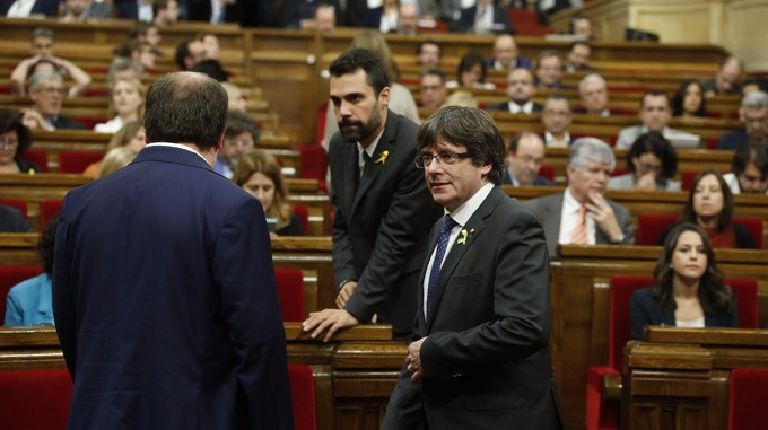 Mr Puigdemont and Vice President Oriol Junqueras exchanged congratulatory embraces and handshakes after the vote.
Many of the opposition lawmakers had left the chamber in protest moments before the vote.
Earlier Mr Rajoy warned the region would face the consequences of a "clear violation of laws" if the Catalan lawmakers passed the vote for a split from Spain.
Article 155 allows the government to take "all measures necessary" to intervene directly in the running of an autonomous region in the event of a crisis.
This is the first time it has been used.
European Council president Donald Tusk said "nothing changes" for the EU.
He wrote on Twitter: "Spain remains our only interlocutor. I hope the Spanish government favours force of argument, not argument of force."