Catalan leader calls for peaceful opposition to Spain
Carles Puigdemont addressed supporters in front of the flags of the EU and Catalonia.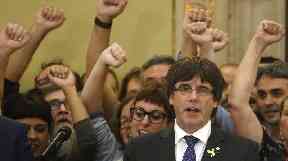 Catalonia's dismissed leader has called on Catalans to peaceful oppose the region's takeover by the Spanish government and fight for independence.
Carles Puigdemont's brief pre-recorded statement behind a podium appeared to refuse to accept his sacking, which came into formal effect on Saturday morning.
His appearance on public regional TV3 broadcaster saw him stand beside the flags of Catalonia and the European Union, with the Spanish flag notably absent.
The separatist leader declared: "We will continue working to build a free country."
The Spanish government's direct control of Catalonia became official on Saturday after dissolving the regional parliament and its government on Friday.
Mr Puigdemont and 12 members of the Catalan cabinet have been warned they could be charged with usurping others' functions if they refuse to obey the Spanish government.
The region had earlier passed the declaration of independence by a vote of 70-10 after opposition politicians in the 135-member parliament abstained and left the chamber.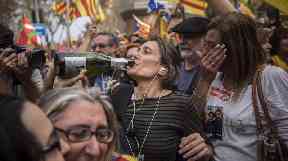 Rival rallies were held on Friday night after vast pro-independence crowds had celebrated in the Catalan capital Barcelona - only to condemn the move from Madrid.
Smaller pro-unity groups came out in support of the Spanish authority being imposed.
The Spanish Senate approval of a proposal to trigger Article 155 of the constitution gave Madrid control over Barcelona.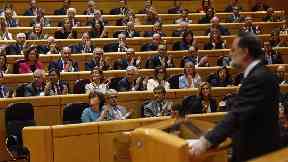 It enables central government to take "all measures necessary" to intervene directly in the running of an autonomous region in the event of a crisis.
Mr Rajoy has the backing of world leaders, with no country as yet supporting Catalan independence.
Downing Street said Britain will not recognise the Catalan parliament's declaration of independence from Spain.