Spain warns Catalan officials face rebellion charges
The latest threat came ahead of pro-independence rallies in Barcelona on Sunday.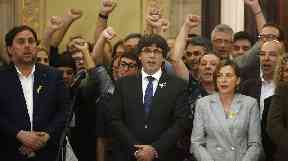 Spanish prosecutors say top Catalan officials could face rebellion charges as soon as Monday if they continue to disobey direct rule.
Catalonia's ousted leader Carles Puigdemont and 12 members of the dismissed Catalan cabinet have been warned they could be charged with usurping others' functions if they refuse to obey the Spanish government.
The threat comes as Barcelona is set to host protest rallies on Sunday.
Mr Puigdemont was mobbed by his supporters in the Catalan city of Girona on Saturday after he called for peaceful opposition to Madrid.
He declared he and other fired officials will keep "working to build a free country" in a pre-recorded televised message.
The address was broadcast Saturday hours after the Spanish government's direct control of Catalonia became official.
Spain's Deputy Prime Minister, Soraya Saenz de Santamaria, has been handed control of Catalonia while Spain's interior ministry has taken charge of the region's police.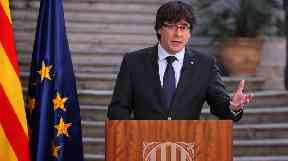 The powers in Madrid voted to dissolve the regional parliament and its government on Friday.
Prime Minister Mariano Rajoy's office has refused to comment on Mr Puigdemont's televised address.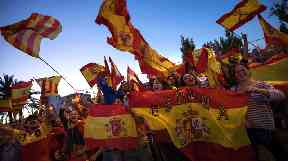 However, officials said the separatist leader's actions will be a judicial affair from now on and that the December 21 election would be the way "to return dignity to the Catalan institutions".
Yet opinions appear split within the region.
A poll published by Madrid-based national newspaper El Pais found 52% of Catalans supported Rajoy's moves compared to 43%.
It recorded 55% of Catalans questioned opposed the declaration of independence, while 41% supported it.
Separate polls suggest pro-independence parties would likely maintain their slim advantage in parliamentary seats but wouldn't get more than 50% of the vote.