Donald Trump denounces Democrat 'witch hunt' over Russia
US President criticised investigations into Russian collusion amid reports arrests are imminent.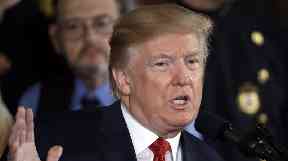 US president Donald Trump has sent a barrage of angry tweets criticising the investigations into Russian interference in the 2016 election.
In a series of five tweets Mr Trump denied claims of a "Trump/Russia collusion" accusing the Democrats of a "witch hunt".
His tweets followed a CNN report that a federal grand jury in Washington has approved the first charges in the criminal investigation led by special counsel Robert Mueller.
The president's tweets said: "Never seen such Republican ANGER & UNITY as I have concerning the lack of investigation on Clinton made Fake Dossier (now 12,000,000 dollars?), the Uranium to Russia deal, the 33,000 plus deleted Emails, the Comey fix and so much more. Instead they look at phony Trump/Russia,...."collusion," which doesn't exist. The Dems are using this terrible (and bad for our country) Witch Hunt for evil politics, but the R's...are now fighting back like never before. There is so much GUILT by Democrats/Clinton, and now the facts are pouring out. DO SOMETHING!"
The fifth tweet said: "All of this "Russia" talk right when the Republicans are making their big push for historic Tax Cuts & Reform. Is this coincidental? NOT!"