US Navy saved our lives, say women lost at sea for months
Jennifer Appel, Tasha Fuiba and their dogs were spotted 900 miles off the coast of Japan.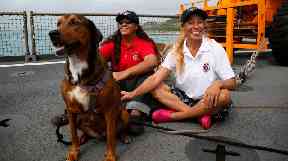 Two women missing at sea for five months say they would have been "dead within 24 hours" had the US Navy not rescued them.
Jennifer Appel and Tasha Fuiba were trying to sail from Hawaii to Tahiti when they lost their engine in bad weather.
They made several distress calls but eventually drifted too far out for their pleas for help to be detected from land.
But the friends and their two dogs were finally saved when the US Navy spotted them 900 miles off the coast off Japan - well off their planned course.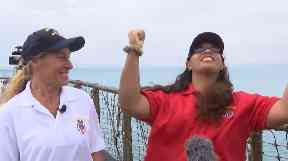 "The crew of the USS Ashland saved our lives," Ms Appel said.
"Had they not been able to locate us, we would have been dead within 24 hours."
Describing their joy to see help coming, Ms Fuiba said: "When we saw the Navy we were like 'Yes! Someone can actually help us.'
"It was great. We had tears going down our eyes. We were like 'they see us, they see us.'"
The pair said at first they were worried the Navy hadn't spotted them as the boat passed theirs a bit but were relieved when they were told it was "just procedure".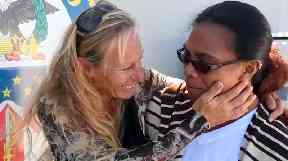 The sailors admitted they had "not been prepared" when they set off on their epic journey and survived on pasta and oatmeal.
Their boat was even attacked twice by tiger sharks.
But despite their ordeal it has not put them up getting back out on the water.
"We would very much like to recover the vessel and if not we would like to build the unsinkable, unbreakable boat with our knowledge we acquired during these months," Ms Appel said.
"We still never got to go to Tahiti or see the 20,000 islands, so I think that would be the most fantastic trip for May of next spring."