Danish inventor admits dismembering Swedish journalist
Peter Madsen claims Kim Wall died as a result of carbon monoxide poisoning.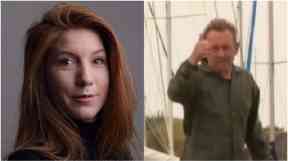 A Danish inventor has admitted dismembering a Swedish journalist who disappeared from his submarine - but claims he did not kill her, Danish Police said.
Inventor Peter Madsen says Kim Wall died as a result of carbon monoxide poisoning inside the vessel when he was on deck.
He has acknowledged he dismembered her body and threw it into the bay, Danish Police added.
Investigators have found bags containing her body parts and clothes.
Ms Wall, who was working on a story about Madsen, was last seen aboard his homemade submarine UC3 Nautilus on August 10 as it left Copenhagen.
The next day, Madsen was rescued from the sinking submarine without Wall. Police believe he deliberately sank the vessel.
Copenhagen police investigator Jens Moeller Jensen told earlier this month how Ms Wall's head, legs and clothes were found bags with a knife and "heavy metal pieces" to make them sink near where her naked torso was found on August 21.
Inventor Madsen has said Ms Wall died after being accidentally hit by a heavy hatch in the submarine.
He has denied charges of killing Ms Wall, and faces between five years and life in prison if convicted.