Catalan leader ordered to appear before Spanish judge
Carles Puigdemont wanted for questioning over Catalonia's independence vote.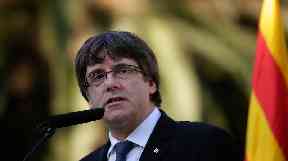 Carles Puigdemont has been ordered to appear before a Spanish judge for questioning over Catalonia's controversial independence vote.
The ousted regional president and his Catalan cabinet colleagues have all been summoned as prosecutors seek charges of rebellion, sedition and embezzlement.
It comes as Mr Puigdemont spoke from Brussels earlier on Tuesday where he said he was acting "in freedom and safety".
The deposed leader fled to Belgium shortly after Catalonia declared independence from Spain following its independence referendum at the start of the month.
Mr Puigdemont said he would remain in Brussels for as long as it took to guarantee him a fair judicial process.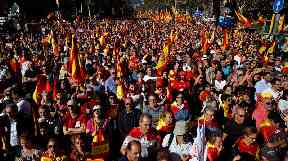 Madrid has contested Catalonia's declaration of independence and decried the initial vote as "illegal".
In response, the Spanish government dissolved the Catalan semi-autonomous administration and announced regional elections.
Rebellion, sedition and embezzlement charges have also been leveled against Catalan officials - which could result in prison sentences of 30 years.
In total, 14 Catalan face possible criminal proceedings.
Investigating judge Carmen Lamela ordered the group to appear in Madrid's National Court on Thursday for interrogation.