New York terror attack: Eight killed by truck driver
A 29-year-old man was shot and arrested following the incident in lower Manhattan.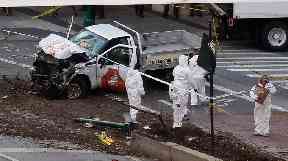 At least eight people have been killed and several injured when a pickup truck deliberately hit pedestrians in an incident described as a "cowardly" act of terrorism by New York's mayor.
A 29-year-old man was shot and arrested following the incident in Lower Manhattan shortly after 3pm on Tuesday.
Witnesses described seeing a vehicle driving down a popular cycling path near the World Trade Centre and hitting pedestrians.
He then emerged from the rental vehicle brandishing two handguns and shouted "Allahu akbar" before being detained.
New York mayor Bill de Blasio said that early information pointed to an act of terrorism.
Eight people confirmed dead 
Several left with serious injuries
Attacker brandished pellet gun and paint gun
Police say attacker was lone wolf
Mayor describes incident as "cowardly"
Says innocent civilians were deliberately targeted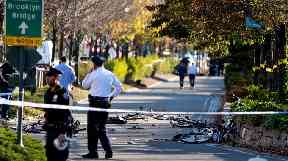 Six men were pronounced dead at the scene and two further people died at hospital, police revealed at a press conference.
At least a dozen people are being treated in hospital for non life-threatening injuries.
Among those are two children and two adults traveling on a school bus that was hit by the rental vehicle.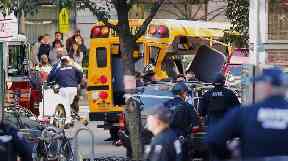 Mr de Blasio described the attack as "cowardly".
He added that the incident had made it a "painful day" for the city.
Donald Trump tweeted that the attacker was a "very sick and deranged" person, while First Lady Melania Trump said her "heart breaks" for New York.
New York Police Department said there was no indication of a wider threat. It is the first fatal terror attack in New York since 9/11.
The Foreign Office said it was "not aware" of any British casualties.
Theresa May described herself as "appalled" at the attack, adding that "together we will defeat the evil of terrorism".
The public are being urged to avoid the area.