Climbing on top of Australian rock formation to be banned
The decision was made to recognise its sacredness to indigenous people.
Climbing the dramatic rock formation Uluru will be banned in two years as visitors to the Australian scenic landmark increasingly recognise its sacredness to indigenous people.
A park board made up of a majority of the traditional owners of the land where the rock stands made the decision on Wednesday.
One of the landowners, Sammy Wilson, said: "It is an extremely important place, not a playground or theme park like Disneyland."
The red monolith is inside Uluru-Kata Tjuta National Park near Alice Springs, some 1,300 miles northwest of Sydney.
Figures from Parks Australia indicated only 16% of visitors climbed the rock between 2011 and 2015, down from 74% in the 1990s.
Around 300,000 people visit yearly, with Australians and then Japanese most likely to climb.
Mr Wilson, who is the park's board chairman, said visitors still would be welcomed.
"We are not stopping tourism, just this activity," he said.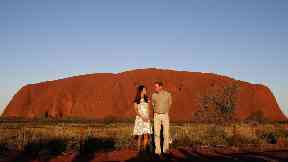 The traditional landowners, the Anangu, have always refused to climb Uluru and consider it sacred.
The site is often closed to climbers after the death of important indigenous figures as a mark of respect.
The park board in 2010 had indicated it would close the formation to climbing if the activity was declining and if other park experiences were attracting visitors.
The last day of climbing will be Oct. 26, 2019, chosen because it is the anniversary of the date in 1985 when the land and the formation once called Ayers Rock were handed back to the traditional owners.