Puigdemont absent as Catalonia leaders appear in court
The ousted president has failed to join ex-members of his government in Madrid.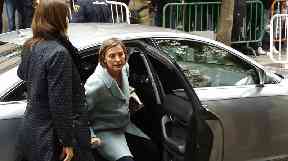 Ex-members of Catalonia's government have appeared in court to face possible charges of rebellion, sedition and embezzlement, after the region's disputed independence vote.
In total, 15 out of 20 sacked politicians answered court summons from two Spanish courts in Madrid on Thursday.
But ousted regional president Carles Puigdemont and four others refused to appear which could lead to warrants for their arrests.
Six, including the former speaker of Catalonia's Parliament and prominent pro-independence activist Carme Forcadell, attended the Supreme Court.
The court suspended questioning of those under investigation until next week.
Nine former cabinet members also attended a hearing at the National Court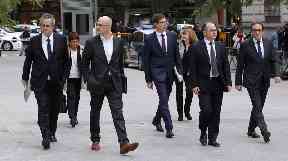 Mr Puigdemont and four others fled to Brussels after the Spanish government dissolved the Catalan semi-autonomous administration.
Prosecutors may now seek petitions for their extradition after their failure to appear in court.
On Tuesday, Mr Puigdemont said he was acting"in freedom and safety"and would return to Spain "immediately" if a fair judicial process was guaranteed.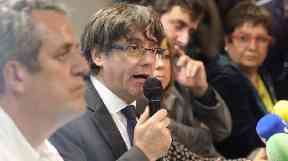 The charges that have been levelled at the Catalan leaders could lead to prison sentences, with rebellion carrying a maximum 30-year jail term.
Regional elections are set to take place on December 21.