US debates placing North Korea on terrorism list
A White House adviser told reporters they were considering it.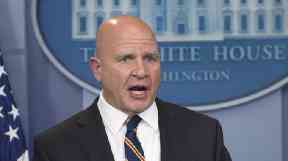 The Trump administration is weighing adding North Korea to the list of state sponsors of terrorism, White House adviser H.R. McMaster said on Thursday.
"You'll hear more about that soon, I think," the adviser told reporters ahead of Donald Trump's 12-day tour of Asia, which starts on Friday.
Trump is scheduled to meet leaders from Japan, South Korea, China, Vietnam and the Philippines, with North Korea's nuclear threat high on the agenda.
McMaster said the killing of North Korea's leader Kim Jong un's half brother in a Malaysian airport earlier could lead to Pyongyang's placement on a list, alongside Iran, Sudan and Syria.
Although Malaysia has never directly accused North Korea if the murder, South Korea's spy agency said the attack was part of a plot emanating from the highest levels of the rogue regime.
"A regime who murders someone in a public airport using nerve agent, a despotic leader who murders his brother in that manner, that's clearly an act of terrorism that fits in with a range of other actions," McMaster said.
He also noted that adding North Korea to the list of state sponsors of terrorism "is something that's under consideration".
Kim's half brother, Kim Jong Nam, died in February after two women rubbed his face with a liquid later identified as VX nerve agent as he passed through the airport in Kuala Lumpur.
North Korea was on Washington's terrorism blacklist for two decades after the 1987 bombing of a South Korean airliner that killed 115 people. Pyongyang was removed from the list by President George W. Bush in 2008 as part of disarmament negotiations.
However, North Korea is already heavily sanctioned over its nuclear weapons programme, so designating it a state sponsor of terrorism would largely be symbolic.