Police investigate 'credible' rape claim against Weinstein
The NYPD said a woman approached them saying the alleged incident took place.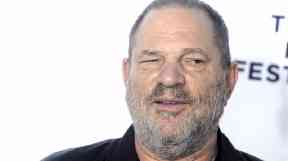 Police in New York say they are investigating a "credible" rape allegation made against Harvey Weinstein.
New York Police Department's (NYPD) chief of detectives said a woman approached them last week, saying the alleged incident took place seven years ago.
Robert Boyce said the alleged victim "put forth a credible and detailed narrative".
He continued: "We then sought to garner corroboration. This happened seven years ago, and we found corroboration along the way.
"We immediately contacted the district attorney in New York and we started working the case together.
"We have an actual case here, so we are happy with where the investigation is right now.
"Mr Weinstein is out of state, we would need an arrest warrant to arrest him.
"So right now we are gathering our evidence. We continue to do so every day. So that's where we are in the case right now."
Earlier this week, police in the UK said they were investigating claims of sexual assault from seven women against the 65-year-old
Officers have received 11 separate allegations of sexual assault on dates ranging from the 1980s to 2015, both in London and outside the United Kingdom.
The Metropolitan Police said there have been no arrests over any of the allegations at this stage.
Allegations against Weinstein include claims that he used sex with aspiring actresses as a bargaining tool for roles.
Gwyneth Paltrow and Angelina Jolie are among the actresses to accuse Weinstein of sexual harassment, while Rose McGowan said he raped her.
The movie mogul has "unequivocally denied" allegations of non-consensual sex.