Saudi princes are detained in anti-corruption drive
A number of princes and former ministers have been held in Saudi Arabia.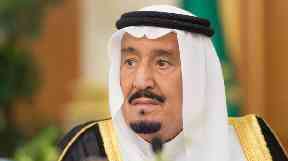 A number of princes and former ministers have been detained in Saudi Arabia in an anti-corruption drive, the Saudi-owned Al-Arabiya news channel has reported.
The country's King, Salman bin Abdulaziz Al Saud, has also removed a prominent prince who was head of the national guard, and replaced the economy minister while announcing the creation of a new anti-corruption committee.
The anti-corruption probe - which has seen 11 princes and dozens of ex-ministers detained - was headed by the kingdom's powerful Crown Prince Mohammed bin Salman, who was named to oversee the new committee.
Al-Arabiya reported that the committee is looking into deadly floods that overwhelmed parts of the city of Jiddah in 2009 and is investigating the Saudi government's response to the Middle East respiratory syndrome (MERS) virus that has killed several hundred people in the past few years.
Meanwhile, the kingdom's top council of clerics issued a statement saying it is an Islamic duty to fight corruption - essentially giving religious backing to the high-level arrests being reported.
The government said the anti-corruption committee has the right to issue arrest warrants, impose travel restrictions and freeze bank accounts. It can also trace funds, prevent the transfer of funds or the liquidation of assets and take other precautionary measures until cases are referred to the judiciary.
The royal order said the committee was established "due to the propensity of some people for abuse, putting their personal interest above public interest, and stealing public funds".
Saudi nationals have long complained of rampant corruption in government and of public funds being squandered or misused by people in power.
The 32-year-old crown prince has been seeking to attract greater international investment and improve the country's reputation as a place to do business, as part of a larger effort to diversify the economy away from dependence on oil revenue.