Trump in stark warning to potential enemies amid Asia tour
US president warned potential enemies not to test America's resolve on the first stop of his tour.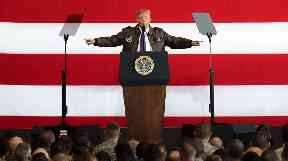 Donald Trump has warned potential enemies not to test America's resolve on the first stop of his marathon tour of Asia.
Though he did not mention any countries by name, the president's speech on Sunday will widely be seen as a rebuke to North Korea.
Speaking at Yokota Air Base, near Tokyo, where thousands of US servicemen are based, Mr Trump described his nation's military as the "most fearsome fighting force in the history of our world."
Mr Trump, donning a bomber jacket, warned adversaries not to test his country's resolve.
Before his speech, the US leader described North Korea as a "big problem" that must "be solved".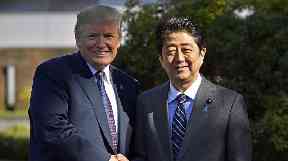 Some analysts have suggested Pyongyang could use Trump's Asia tour as an opportunity to fire another missile.
A war of words between Mr Trump and counterpart Kim Jong-un has increased in ferocity over past months as the hermit regimes pursues its bid to become a nuclear-armed nation.
Mr Trump told the audience on Sunday: "Japan is a treasured partner and crucial ally of the United States and today we thank them for welcoming us and for decades of wonderful friendship between our two nations."
He continued: "Together with our allies, America's warriors are prepared to defend our nation using the full range of our unmatched capabilities.
"No one, no dictator, no regime and no nation should underestimate, ever, American resolve,"
During his 11-day trip of the region, Mr Trump is also expected to visit South Korea, China, Vietnam and the Philippines.
It is the longest tour of the continent by a US president in 25 years.
Following his speech, Mr Trump enjoyed a round of golf with Japanese premier Shinzo Abe and golfing pro Hideki Matsuyama.
During the game the US leader tweeted: "Playing golf with Prime Minister Abe and Hideki Matsuyama, two wonderful people!"