Up to 25 people dead after mass shooting at Texas church 
The man walked into the church in Sutherland Springs and started shooting.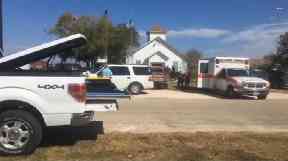 Up to 25 people have reportedly been killed after a gunman opened fire at a Baptist church in Texas, police said.
The man walked into the church in Sutherland Springs and started shooting, said Wilson County Sheriff Joe Tackitt.
Sheriff Tackitt said "approximately 25 people", including the shooter, were dead after the incident.
No motive for the shooting has been established.
It has not been revealed how the shooter died, but it is believed police were involved in a pursuit near the church after the shooting.
Both the FBI and Bureau for Alcohol, Tobacco, Firearms and Explosives (ATF) are travelling to the scene to help with the investigation.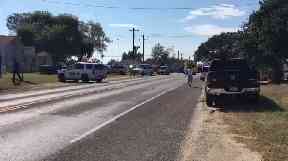 One hospital in Floresville, Texas, about 10 miles from the shooting, said they were treating "multiple" victims with gunshot wounds.
Connally Memorial Medical Centre spokeswoman Megan Posey declined to say how many patients were being treated at the hospital, but said the number was less than a dozen.
Emergency services converged on the church in the small town south east of San Antonio and helicopters were taking victims to hospitals.
Sutherland Springs is a community of about 400 people 30 miles south east of San Antonio.
US President Donald Trump, currently in Japan, tweeted his condolences to the victims and their families.
Texas Attorney General Ken Paxton said in a statement that his office "stands ready to assist local law enforcement as needed".