Saudi prince killed in helicopter crash near Yemen
Saudi media said the helicopter was carrying Prince Mansour bin Murquin.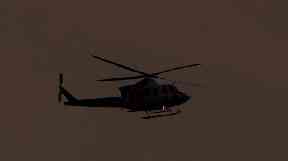 Eight people have died, including a high-ranking Saudi prince, after a helicopter crashed in the south of the Kingdom close to the border with war-torn Yemen.
Saudi media reported the helicopter was carrying Prince Mansour bin Murquin, the deputy governor of Asir province.
A search of the crash site, 520 miles south-west of Riyadh, is underway.
The crash came a day after the Saudis shot down a ballistic missile near Riyadh's airport, which was reportedly fired by Houthi rebels from Yemen. Houthi officials have yet to comment on the crash.
Mansour was the son of Prince Muqrin bin Abdulaziz, a former crown prince and director-general of the Saudi Intelligence Agency, who was removed in April 2015 by his half brother King Salman in favour of Prince Mohammed bin Nayef.
Earlier this year, Prince Mohammed was ousted by Salman in favour of the now-Crown Prince Mohammed bin Salman, 32, who is tightening his grip on power with sweeping arrests of ministers, businessmen and members of the royal family on charges of corruption.