Trump visits South Korea amid tensions with Pyongyang
The US president has taken a hard line against North Korea over its nuclear arsenal.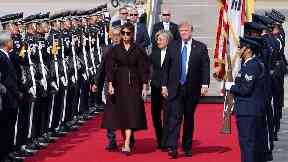 Donald Trump landed in South Korea on Tuesday, a two-day visit held against a backdrop of increased tensions with North Korea over the regime's nuclear weapons programme.
Since taking office, the US president has taken a hard line against Pyongyang, even threatening to "totally destroy" the country in a September speech at the United Nations.
Any statements Trump makes will be watched warily by leaders on both sides of the divided peninsula as Washington and its regional allies look to deter any further weapons testing by dictator Kim Jong un.
At a Monday news conference in Japan, Trump declared the "era of strategic patience" towards Pyongyang "is over."
"Some people say my rhetoric is very strong but look what has happened with very weak rhetoric in the last 25 years," he continued.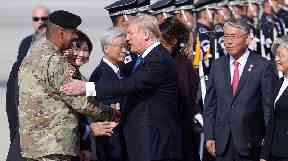 Trump will not visit the demilitarised zone during the trip, and will instead meet US military personnel at Camp Humphreys, a base about 40 miles south of Seoul.
Trump has an ally in South Korean President Moon Jae-in, with the pair agreeing on the need to pressure the North with sanctions and deterrence measures. However, Trump has refused to rule out military intervention, threatening the regime with "fire and fury," while insisting all options remain on the table.
Moon, meanwhile, has called for dialogue as the best strategy for defusing the nuclear tension, especially as any military action would likely lead to mass casualties in Seoul.
Trump will hold a joint press conference with Moon later on Tuesday, followed by a state dinner.