President Trump warns North Korea: Do not try us
He delivered a sharp warning to Kim Jong-un during a speech in South Korea.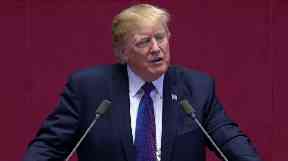 President Donald Trump has delivered a sharp warning to North Korea's leader Kim Jong-un during a speech in South Korea.
Trump told the pariah state leader "Do not underestimate us. And do not try us".
"The weapons you are acquiring are not making you safer, they are putting your regime in grave danger," Trump told an audience of South Korean lawmakers, calling on all nations to join forces "to isolate the brutal regime of North Korea."
"The world cannot tolerate the menace of a rogue regime that threatens with nuclear devastation," he said.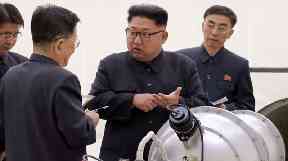 In the speech at South Korea's parliament, Trump painted a bleak portrait of life in North Korea, describing citizens as bribing government officials to leave the country just so they can work as slaves.
A year since he was elected President of the United States, Trump contrasted the poverty and desperation to thriving South Korea, home to a long list of top-rated golfers, he noted.
Trump said the US will not allow its cities to be threatened with destruction, and said that, while America "does not seek conflict or confrontation," it will not run from it, either.
"The regime has interpreted America's past restraint as weakness. This would be a fatal miscalculation," Trump said. "This is a very different administration than the United States has had in the past."
Trump also said that the US was "completely rebuilding its military" and spending "billions of dollars" on the "newest and finest military equipment" before adding that he wants "peace through strength".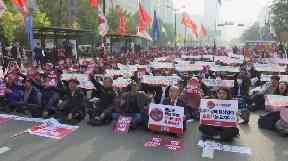 He also called on all nations to downgrade diplomatic and economic ties with the North and fully implement a series of UN Security Council measures, specifically calling out Russia and China, whose leaders he will meet in coming days.
Trump had hoped to carry out an early morning visit to the Korean demilitarized zone (DMZ) between North and South Korea, but his plans were thwarted by heavy fog.
The Marine One helicopter left Seoul at daybreak and flew most of the way to the DMZ, but was forced to turn back after just five minutes due to poor weather conditions.
On Tuesday Trump had signaled a willingness to negotiate with North Korea as he urged the pariah state to "come to the table" and "make a deal" over its nuclear weapons program.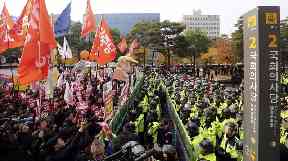 He also said he'd seen "a lot of progress" in dealing with Pyongyang, though he stopped short of saying whether he wanted direct talks.
"It makes sense for North Korea to come to the table and make a deal that is good for the people of North Korea and for the world," Trump said at a news conference with South Korea's president, Moon Jae-in.
He also sounded an optimistic note on disagreements with the North, saying confidently, if vaguely: "Ultimately, it'll all work out."
It was a striking shift in tone for a president who for months had issued increasingly dire threats to answer any hostile North Korean action with "fire and fury."
North Korea has fired more than a dozen missiles this year but none in nearly two months. Analysts caution against reading too much into the pause.
Moon, who has been eager to solidify a friendship with Trump, said he hoped the president's visit would be a turning point in the standoff with North Korea.
Donald Trump, who is on the longest tour of Asia by a US president in 25 years, will now travel to China to meet with President Xi.