Putin and Trump 'agree to defeat Islamic State in Syria'
The US and Russian presidents confirmed their intentions to defeat so-called Islamic State group.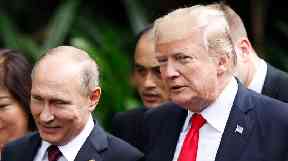 Donald Trump and Vladimir Putin have confirmed the US and Russian intentions to defeat the so-called Islamic State group in Syria.
The leaders reached an agreement during the Asia-Pacific Economic Cooperation conference in Vietnam on Saturday.
The White House has not issued an official statement on the brief meeting, but the Kremlin said the two leaders had agreed no military solution would end the Syrian conflict and that a final resolution would have to come in the framework of the so-called Geneva Process.
According to the Kremlin, Trump and Putin agreed to support existing communications channels to ensure the security of the US and Russian armed forces.
The two presidents also agreed to prevent dangerous incidents involving the forces of partners fighting IS.
The US and Russian presidents did not have a formal meetingduring the economic summit, but appeared to be on good terms.
US intelligence agencies have accused Russia of meddling in the 2016 presidential election in order to help Trump win. Putin has denied interfering in the election.
Mr Trump used the summit of Asian leaders to deliver an "America first" message and denounced China for unfair trade practices.
"We are not going to let the United States be taken advantage of any more," Mr Trump told CEOs on the sidelines of the Asia-Pacific Economic Cooperation (Apec) conference.
"I am always going to put America first, the same way that I expect all of you in this room to put your countries first."