Museum removes Adolf Hitler 'selfie' waxwork model
Indonesian museum encouraged visitors to take selfies against an image of Auschwitz has removed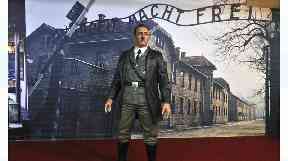 An Indonesian museum that encouraged visitors to take selfies with a waxwork of Adolf Hitler against a backdrop of the entrance to Auschwitz extermination camp has removed the exhibit after protests.
The life-size statue was removed on Friday, according to the De Mata Trick Eye Museum's marketing officer, after Jewish and human rights groups called for it to be taken down.
Human Rights Watch called the exhibit "sickening" and the Los Angeles-based Simon Wiesenthal Centre, which campaigns against Holocaust denial and anti-Semitism, demanded its immediate removal.
The museum, which has waxworks of some 80 famous people, had the Hitler figure on display since 2014. It showed Hitler against a picture of the entrance to the camp with the infamous iron sign bearing the Nazis' slogan "Arbeit Macht Frei" (work sets you free).
Over 1 million people - the vast majority Jewish - were exterminated in the camp that lies in modern day Poland.
The museum initially defended the exhibit as "fun" and said it was one of the most popular waxworks with visitors to the infotainment-style museum in the central Java city of Yogyakarta.