Spanish prime minister visits Catalonia ahead of elections
It is the first visit Mariano Rajoy has made since the disputed independence referendum.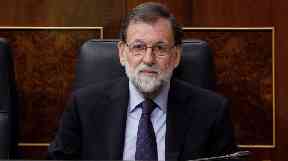 The Spanish prime minister has paid his first visit to Catalonia since the independence referendum in the region that his government declared to be illegal.
Mariano Rajoy urged Catalans to vote separatists out of the regional parliament in local elections, at a speech he gave to members of his conservative Popular Party in Barcelona.
He called the early elections, which will take place on December 21, and he told supporters "we want a massive turnout to open up a new period of normalcy".
Rajoy used constitutional powers never used before to stifle the Catalonian parliament's push for independence, after voters in October opted overwhelmingly for independence from Spain.
The regional government was fired, its parliament was dissolved, and Rajoy called an early election.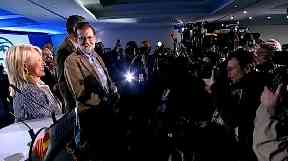 "It's urgent to return a sense of normality to Catalonia and do so as soon as possible to lower the social and economic tensions," he said.
"The threat of the separatists is destructive, sad and agonizing. Secessionism has created insecurity and uncertainty."
Polls show a tight race ahead in Catalonia between separatists and those who want the region to remain a part of Spain. In Brussels on Sunday, those favoring independence for Catalonia rallied near the European Union quarter.
As well as the Catalan parliament being dissolved, a judge has jailed 10 separatist leaders while investigating their roles in promoting independence.
Catalonia's deposed president Carles Puigdemont and four former members of his Cabinet have fled to Brussels where they will fight extradition.