Bob Geldof returns Freedom of Dublin in Myanmar protest
UN has described the treatment of Rohingya Muslims in Myanmar as 'ethnic cleansing'.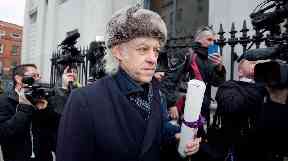 Sir Bob Geldof has returned his Freedom of the City of Dublin in protest at it also being held by Myanmar's leader Aung San Suu Kyi.
Ms Suu Kyi became a free woman of the Irish capital in 2000 while struggling for democracy for her country while under military arrest, but did not collect the award until 2012 following her release after years under house arrest.
Yet the musician hit out at the Nobel Peace Prize winner, saying she had "duped" Ireland over a lack of actin to prevent alleged ethnic cleansing of her country's Rohingya Muslims by security forces.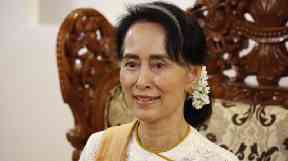 The UN has described the treatment of the Rohingya minority as a "textbook example of ethnic cleansing" with more than half a million fleeing across the border from Myanmar into Bangladesh in the wake of violence from nationalist militias, who have torched dozens of villages in Rakhine State, allegedly killing and gang raping Muslims in the their path.
Critics say Myanmar's government itself has stoked ethnic tensions which have seen ultra-nationalist Buddhist mobs surround many Muslim Rohingya villages.
The violence has driven the Rohingya to flee Buddhist-majority Myanmar, with many of them packed into existing camps or huddled in makeshift settlements that have mushroomed along roadsides and in open fields across Cox's Bazar district on the border with Bangladesh.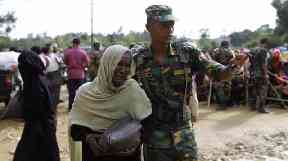 Ms Suu Kyi has faced growing international condemnation for her refusal to condemn the actions of Myanmar's security forces, instead arguing that there has been "an iceberg of misinformation" surrounding the reports from refugees of their villages being burned and of people being slaughtered.
After delivering his freedom of Dublin scroll to the city council's offices on Monday, Geldof said that after fighting "through moral force" the "thugs in the military, she comes to power democratically and it is a great moral victory.
"How much more is the onus and responsibility on you at that point to say something, to not oversee carnage?
"How much more?
"Dublin should not have any truck with this war. She has let us Dubliners down, she has let Ireland down, because we thought she was one thing and we have been duped."
Geldof said he did not want to hand back his freedom of Dublin, explaining: "I am really proud of it. I get handed things by states and cities around the world but I am a Dub and this meant very much to me.
"It does not mean much to anybody else but to me, I don't want to do it but it is the most I can do and the least."
Geldof sang for Ms Suu Kyi when she was welcomed to Dublin in 2012 but claimed she no longer deserved the honour.
The 66-year-old added that the Myanmar military are in danger of creating a Palestine in Asia.
Geldof claimed the crisis did not seem to have people's attention.
"It is so odd that 600,000 people who lived in this country for hundreds of years are suddenly bombed in their straw villages or mass-raped, the men are killed, the children abused, driven across impenetrable borders with nowhere to go.
"So they are true stateless people.
"Are we going to see an Asian Palestinian state? This is impossible."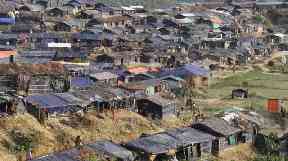 Geldof's comments came as Downing Street said Myanmar's treatment of its Rohingya minority "looks like ethnic cleansing".
The Prime Minister's spokesperson repeated calls for Myanmar's military to end a campaign of "inhumane violence" in Rakhine state, which he said was to blame for a major humanitarian crisis in the south-east Asian country.
However, the spokesperson stopped short of using the word "genocide" in relation to the attacks on Rohingya villages which have taken place since August, instead calling it a "major humanitarian crisis which... looks like ethnic cleansing...
"What we're absolutely clear on is that Burmese authorities need to stop the violence and ensure access into Rakhine state, so that UK aid can provide a lifeline to those suffering there."
Oxford has also stripped Ms Suu Kyi of her freedom of the city, while St Hugh's College at Oxford University, where the 72-year-old read politics, has removed a portrait of her from display.