Thousands of Zimbabweans gather to demand Mugabe departure
People met in Harare as Zimbabweans prepare to protest against the rule of Robert Mugabe.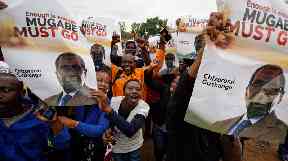 Thousands of people have gathered in Harare as Zimbabweans prepare to protest against the rule of Robert Mugabe.
Large crowds assembled in the country's capital on Saturday morning in the hope Mugabe would step down from power after four decades.
The 93-year-old appeared in public on Friday for the first time since he was placed under house arrest by the military in midweek.
Saturday's demonstrations appear to suggest that many Zimbabweans are ready for Mugabe to relinquish power.
Meanwhile negotiations between Mugabe, the ruling ZANU-PF party and opposition figures are continuing.
Many protesters took to the streets of Harare with banners demanding Mugabe's departure.
Many of those included messages such as "Mugabe must go".
Representatives of the ZANU-PF party signaled impatience with Mugabe over the ongoing negotiations around his exit.
Party branches have passed no-confidence votes in all 10 Zimbabwean provinces, and the state-run Zimbabwe Herald newspaper said all called for the resignation of Mugabe and his wife Grace.
They have sought a special meeting within two days of the party's Central Committee.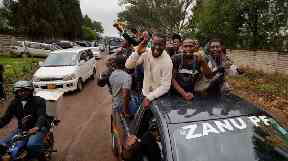 Zimbabwe's military moved to detain Mugabe after the president sacked vice president Emmerson Mnangagwa.
Mugabe accused Mr Mnangagwa of plotting to take power.
The move made deeply unpopular Grace Mugabe heir-apparent and came after months of in-fighting in Mugabe's ZANU-PF party.
In a statement on Friday, the military said it was "currently engaging with the Commander-in-Chief President Robert Mugabe on the way forward and will advise the nation of the outcome as soon as possible".