Signals 'detected from missing Argentinian submarine'
Navy say they have received seven short satellite calls thought to have come from the submarine.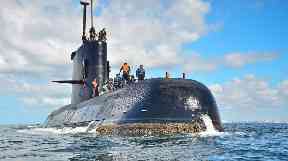 Seven apparent distress have been detected which are thought to have come from a missing submarine with 44 crew members on board, Argentina's Navy has announced.
The brief satellite calls were received as officials frantically search for the ARA San Juan submarine which has been missing since Wednesday.
The communication attempts "indicate that the crew is trying to re-establish contact, so we are working to locate the source of the emissions," the Navy said on its twitter account.
It said the calls lasted between four and 36 seconds. They are not conclusively known to have come from the missing vessel, but that it is the working hypothesis.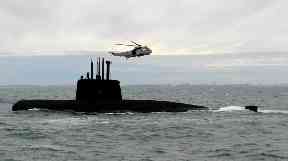 Navy spokesman Enrique Balbi said the area being searched off the country's southern Atlantic coast has been doubled as concerns about the crew's fate grew.
"We are not discounting any hypothesis," Mr Balbi said. Possibilities could include "a problem with communications" or with its power system, he said.
Relatives of the crew members gathered at the Mar del Plata Naval Base in the hopes of hearing news about their loved ones.
"We feel anguish. We are reserved but will not lose our hope that they will return," Marcela Moyano, wife of machinist Hernan Rodriguez, told television network TN.
President Mauricio Macri said the country will use "all resources national and international that are necessary to find the submarine".
A number of countries have offered help with the search.
The US has sent a Nasa scientific aircraft and a Navy plane to assist with the search.
Britain is sending a polar exploration vessel, the HMS Protector, which officials said should arrive on Sunday.
Pledges of help have also come from Chile, Uruguay, Peru and Brazil.