Mugabe sacked as party leader but clings on as president
Robert Mugabe removed from his post at the head of the ruling Zanu PF part.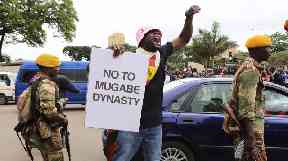 Amid jubilant scenes of singing and dancing, Zimbabwe's ruling party has voted to sack Robert Mugabe as their leader.
The decision has not stripped Mr Mugabe of the role of President - but it marks a key loss of support from his former allies and adds to pressure on him to voluntarily stand down.
Zanu PF party members gave the leadership position to the former Vice-President Emmerson Mnangagwa, but stopped short of removing Mr Mugabe's membership of the party.
One delegate from the Zanu PF party told me "It's a very great thing that we have done today."
When I asked her why they had not done this years ago, she said "Mugabe is a good man but he is surrounded by thieves.
"Now we want him gone today."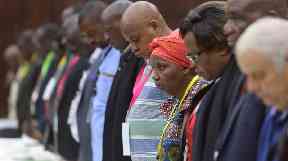 The president is due to meet General Constantino Chiwenga, the army head who led the military intervention against him today, to discuss details of his departure.
But there is still no sign that he is willing to voluntarily step down as the head of state.
Parliament may be asked to vote on a motion of impeachment next week if Mr Mugabe remains.
There were surreal scenes at the meeting, where the seats reserved for the President and his wife Grace remained empty as supporters who previously played the role of slavish sycophants turned against him.
Obert Mpofu, a minister in Mr Mugabe's government, had told the meeting that the military has "freed the president from the closet of those who want to ruin the country".
The ruling party refuses to believe that Mr Mugabe to blame for any of the ills besetting the nation.
"There's no doubt we meet her today with a heavy heart," the minister added.
"We have all worked closely with the outgoing President but in the last five years his wife and close associates have taken advantage of his frail condition to loot powers and state resources."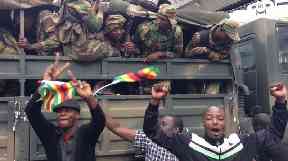 That fact that journalists were allowed into witness the meeting was an extraordinary step.
The reason for it is that Zimbabwe wants to show that the move against Mugabe is in accordance with the law and constitution of the country.