Robert Mugabe vows to stay on as Zimbabwe's president
The rambling speech came just hours after the country's ruling party voted to sack him as leader.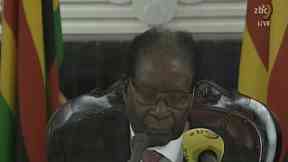 A defiant Robert Mugabe has not resigned as President of Zimbabwe and vowed to remain in power in a televised address to the nation in which he was widely expected to stand down.
The 93-year-old's rambling speech - in which he frequently lost his place - came just hours after the country's ruling party voted to sack Mr Mugabe as their leader and gave him less than 24 hours to resign or face impeachment.
ZANU-PF told Mr Mugabe he must resign by noon on Monday.
Their vote to sack Mr Mugabe was met with jubilant scenes of singing and dancing.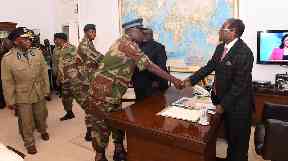 Mr Mugabe has come under increasing calls to resign in a dramatic few days which saw the military put him under house arrest, angered by his firing of vice-president Emmerson Mnangagwa and positioning of the unpopular first lady, Grace Mugabe, to replace him - and probably succeed her husband as leader.
After sacking Mr Mugabe as their leader, the Central Committee of ZANU-PF named Mr Mnangagwa as their head.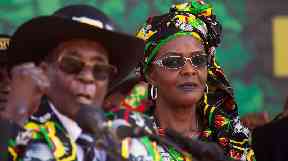 ZANU-PF has also accused Mrs Mugabe of "preaching hate, divisiveness and assuming roles and powers not delegated to the office". She was removed as head of the women's league.
On Sunday, Mr Mugabe met with General Constantino Chiwenga, the army head who led the military intervention against him, to discuss details of his departure in a second round of talks between the pair.
Details of the discussions between the pair were not released, but the military appears to favour a voluntary resignation by Mr Mugabe in order to avoid accusations of a coup and maintain a veneer of legality in the proceedings.
Mr Mugabe has been leader of Zimbabwe for 37 years, having led the country since it gained independence from Britain in 1980.
On Saturday, most of Harare's population of 1.6 million poured into the streets in an anti-Mugabe demonstration that just days ago would have brought a police crackdown.