Germany faces fresh election after coalitions talk fails
The chancellor now faces forming a minority government or calling a snap election.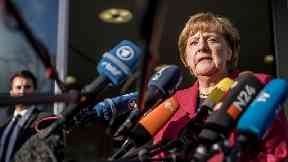 Angela Merkel's hopes of forming a four-party coalition in Germany collapsed on Sunday after the Free Democrats withdrew from talks.
The chancellor now faces the prospect of forming a minority government or calling for a snap election.
Free Democrat leader Christian Lindner said his party exited negotiations because they were unwilling to compromise their principles, ending the prospect of Merkel's conservative bloc and the Greens forming a majority coalition.
"It is better not to govern, than to govern falsely," Lindner said.
Merkel could to try to continue her current governing coalition with the Social Democrats, although that centre-left party has said it will not do so. A minority government is considered unworkable, so Germans are likely to once again be asked to go to the polls.
Merkel had set a deadline of last Thursday for her conservative Christian Democrats, the Christian Social Union, the Free Democrats and the Greens to reach an agreement - a deadline they missed.
Greens politician Reinhard Buetikofer slammed Lindner's decision, saying the Free Democrat leader had chosen "a kind of populist agitation instead of governmental responsibility".
Key sticking points for the pro-business Free Democrats surrounded the issues of migration and climate change.
The Greens wanted Germany to end its use of coal and combustion engines by 2030.
The other parties were open to reducing carbon emissions, but Merkel's bloc would not put a date on when to phase out coal. The Free Democrats expressed concern over what such progressive green policies would mean for Germany's economy.
On migration, the Christian Social Union demanded an annual cap on refugees, while the Greens wanted to allow more categories of recent migrants.
The Social Democrats, Merkel's current partners in the outgoing government, have insisted they will go into opposition after a poor result in the September election.
Polls suggest a new election would yield a similar result to the September election that has led to the current impasse.